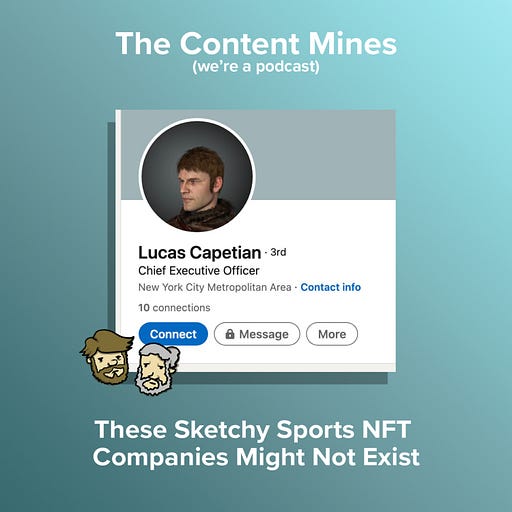 Jan 13, 2022 • 1HR 2M
These Sketchy Sports NFT Companies Might Not Exist
We talk about content. How it's made. Why it's good. Why it's very bad. Sorry in advance for the British bits.
This week we dig into the weird possibly entirely fictitious companies that sports teams around the world are partnering with to build NFT and metaverse products. Fake CEOs, weird non-office storefronts, shady international rights management services, and bizarre Chinese masterclass education platforms — this episode's got it all!
SHOW NOTES:
https://twitter.com/waxpancake/status/1480990948972658689
https://www.theguardian.com/games/2022/jan/11/wordle-creator-overwhelmed-by-global-success-of-hit-puzzle
https://www.youtube.com/c/thisisashville/videos
https://defector.com/what-the-hell-is-this-company-the-76ers-just-partnered-with/
https://twitter.com/dhm/status/1472958413009268738?
https://www.prnewswire.com/news-releases/color-star-technology-co-ltd-nasdaq-cscw-announces-ceo-handover-to-lead-company-into-technology-era-301445266.html
https://www.color-star.cn/
https://colorstarinternational.com/
https://www.fun88.co.uk/
https://cryptopotato.com/fc-barcelona-to-launch-iconic-historical-moments-as-nfts/
https://www.sportspromedia.com/news/barcelona-ownix-nft-partnership-cancelled-digital-collectibles-moshe-hogeg/
https://www.dailymail.co.uk/sport/football/article-10372971/Manchester-City-end-partnership-mysterious-crypto-firm-3Key-Technologies.html
https://3key.com/#c401dc5d
https://www.socios.com/
https://twitter.com/uglygame/status/1453671235330707464
https://www.prnewswire.com/news-releases/color-star-technology-announces-strategic-partnership-with-bole-information-technology-to-further-empower-the-color-world-platform-301078432.html
http://redphoenixentertainment.com/about/
https://www.thegamer.com/john-terry-chelsea-fc-monkey-nft/