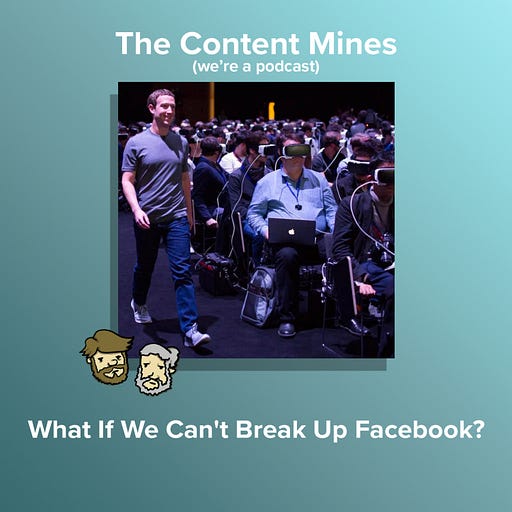 Oct 7, 2021 • 1HR 5M
What If We Can't Break Up Facebook?
We talk about content. How it's made. Why it's good. Why it's very bad. Sorry in advance for the British bits.
This week was a very bad week for Facebook. In fact, it was so bad that at one point it just simply didn't even exist anymore. It seems like the whole world right is wondering how to deal with the site. And now, thanks to a trove of leaked documents, we have the best picture we've ever had at how rotten the company is on the inside. But here's a troubling question: What if we've already missed our chance to untangle ourselves from the platform?
SHOW NOTES:
https://www.youtube.com/watch?v=xk4xxzoabio
https://www.refinery29.com/en-ca/2021/06/10502644/dumping-someone-reddit-relationship-advice
https://xenosagaepisodeone.tumblr.com/post/657600561016963072
https://twitter.com/ianwnm/status/1445122743427637251
https://twitter.com/blameaspartame/status/1445511248968183821
https://www.facebook.com/zuck/posts/10113961365418581
https://twitter.com/miniondeathcult/status/1445148650263367687?s=21
https://twitter.com/joeosborne/status/1445445662867288069/photo/1
https://www.wsj.com/articles/the-facebook-files-11631713039
https://www.cbsnews.com/video/facebook-whistleblower-frances-haugen-misinformation-public-60-minutes-video-2021-10-03/#x
https://www.wsj.com/articles/facebook-instagram-kids-tweens-attract-11632849667
https://www.wsj.com/articles/facebook-instagram-kids-tweens-attract-11632849667https://pitchfork.com/features/lists-and-guides/pitchfork-reviews-rescored/
https://twitter.com/snopes/status/1445832685134307329
https://www.inputmag.com/features/facebook-public-relations-andy-stone-twitter-whistleblower-controversy
https://www.smh.com.au/business/companies/h-and-m-hires-the-29-year-old-facebook-whistleblower-to-mine-its-data-20190201-p50uz0.html